At long last, the Best Places to Run series is back on Running Joyfully! The latest installment highlights the best running routes in my beloved hometown of Davis, California. And who better to introduce us to the rave runs than the current Davis High School sibling stars of Fiona and Olivia O'Keefe!
Before we talk about favorite running routes, let's learn a bit more about these speedy sisters:
Olivia, a sophomore
PR's
800: 2:12
1600: 4:56
Woodward Park: 17:52

Favorite race distance: 800 and 1600
Favorite Cross Country Course: Woodward Park or Mt. SAC
Goals for the rest of track season: I'd love to run 2:10 and compete at the state meet.
Fiona, a senior (headed to Stanford next year)
PR's
1600: 4:45
3200: 10:00
5k: 16:28
Woodward Park: 16:57

Favorite race distance: 3200 and 5k
Favorite cross country course: Willow Hills
Goals for the rest of track season: PR in the 1600 and 3200 and race as hard as I can at state meet and some post-season races.
Favorite Coach Bill anecdote: It's hard to narrow it down to just one Bill story, but here goes: When we first qualified for NXN as a team (my sophomore year), it was snowing in Portland. Being from California, we had never raced in such cold temperatures (it was about 15 degrees with wind chill on race day). Bill wanted us to feel prepared and as comfortable as possible, so he went out to Target and bought balaclavas for all of us, and olive oil to rub on our faces so the wind wouldn't hurt our skin. We went to the line with faces shiny from the oil and wearing way more clothes than any of the teams from the Midwest--we probably looked ridiculous! However, we were ready down to the last detail--Bill's really great at thinking of all the little things.
What you are most looking forward to at Stanford? I'm most looking forward to being surrounded by great minds and athletes, soaking it all in, and being challenged to run (and study!) at the next level. I'm especially excited about the incoming freshman class that I'll be a part of and having people to train with every day.

What you'll miss most about Davis High School? What I'll miss most about Davis High will be all the wonderful moments with the team. I think I'll look back on all the small things that I might've taken for granted: Bill's talks at practice, pre-meet runs in the greenbelt with the girls, somebody madly waving the cross country flag...I've been incredibly lucky to be a part of our team and have Bill as my coach the past four years. The fact that it's all coming to a close is pretty surreal.
Many thanks for Fiona and Olivia for taking the time to share their favorite running routes with Running Joyfully. Read on for their recommendations for rave runs in Davis, California.
1. Putah Creek Trail

Total Miles: 5.6
Surface: Trail and gravel/dirt levee
One of Fiona and Olivia's favorite places for a long run or a relaxed summer run is a loop that includes the dirt trail running parallel to Putah Creek. In the winter or early spring, everything is green and lush. It's one of the few places in flat-as-a-pancake Davis where you can find a few little hills, which makes it a bit of an adventure. The narrow single-track trail lends itself nicely to a good clip. Wildlife sightings are common along Putah Creek: Fiona and Olivia list river otters, hawks, and a coyote as wildlife they've seen on the run.
If you're looking for a longer run, you can easily add on some miles around the nearby UC Davis Arboretum, accessible by running north along Old Davis Road to campus.
Fiona and Olivia say they would be remiss not to mention the North Davis greenbelt and levee run, where they do a large portion of their training, especially during cross country season. According to the girls, "There are endless possibilities for loops with the system of bike paths and the levee. It's also easy to stay on soft surfaces, which is nice! We do all of our Vo2 workouts in the greenbelt during XC, so it's a place of many fond (if painful) memories. The levee (also known as "the ditch") is flat and smooth, perfect for an easy run. Sunsets are beautiful out there -- the temperature drops nicely, and the whole sky lights up with pastel colors."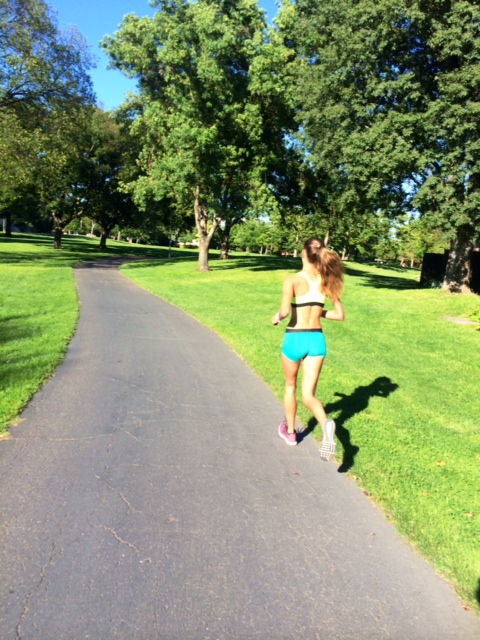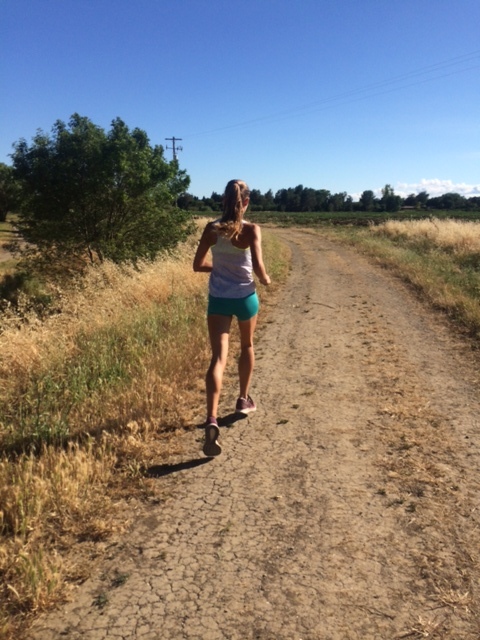 Both Fiona and Olivia's favorite place to refuel after a run is Dos Coyotes, a tasty + healthy Southwestern/Mexican restaurant known for their burritos. So, what better place to finish a long run than here? This route takes you through some of Fiona and Olivia's favorite farm fields surrounding Davis and towards neighboring Woodland. Over 13+ miles, you'll run along the North Davis levee and the "far levee" out amongst county roads before reaching the legendary alfalfa fields, where the Davis HS XC team frequently works out. Then you'll traverse the trails behind the Wildhorse golf course before making your way back towards Dos Coyotes, where your hard-earned post-run meal awaits!
As Fiona says, "This run becomes quite meditative--the only sounds are usually footsteps and breath. The sky stretches all the way to the horizon in all directions. On a clear day, the Coastal Range to the west and the Sierra Nevada to the east stand in juxtaposition to the expanse of flat land." It's a Davis run + meal you won't want to miss!
Join me in wishing Fiona and Olivia the best of luck in their track season - may they both have many joyful miles ahead of them!